Market your ICO/token sales event with Epixel ICO marketing services
Epixel Solutions – Global leaders of blockchain technology for a digital revolution!

Marketing is the key to every successful business opportunity and especially in ICO or token sales, its importance is vital. Launching an ICO campaign without making the world know about it will be a huge upset. In order to make the campaign success we, Epixel ICO marketing agency help you with various packages and services.
As leading ICO marketing service providers, we have a great access to most of the paid websites and teamed up with most of the active ICO listing communities. We help you to launch the token sale with a note on the world saying "we're up for the token sales and is open for investors"!
With the most expertized digital marketing team, the marketing service lists extend from pre-service to post-services. Launch your service with a three-step process now itself!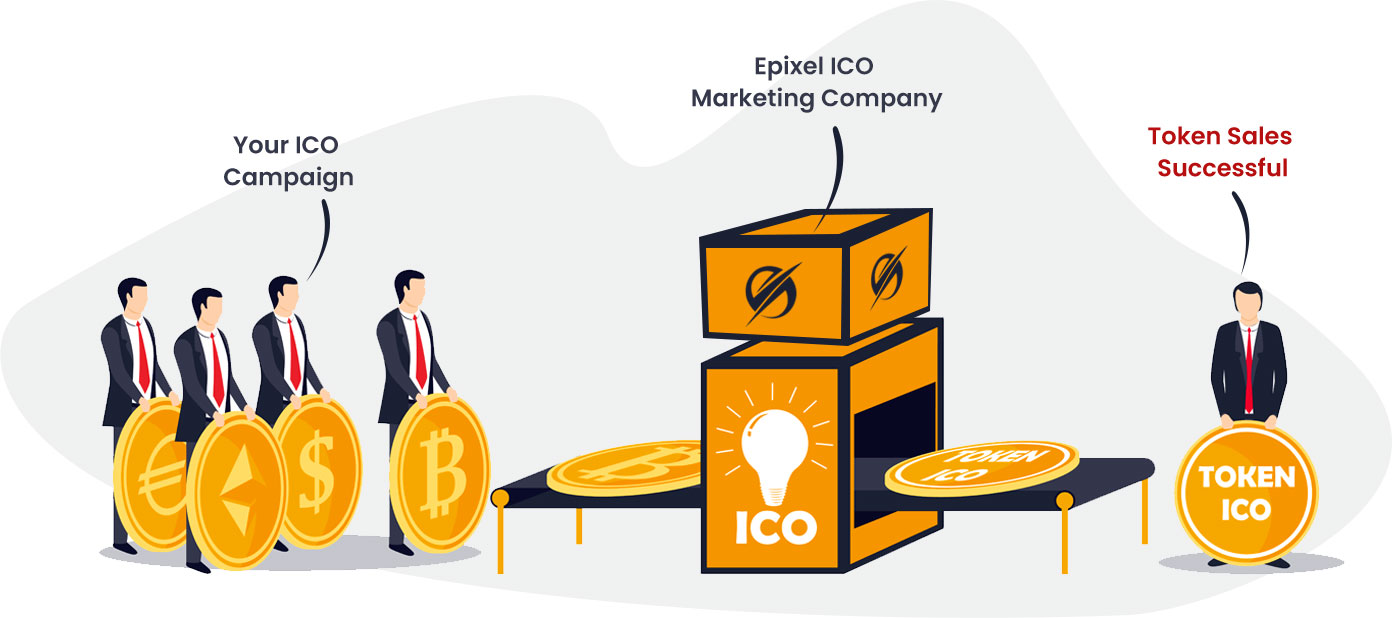 The service lists consist of every possible digital marketing service and for the best interest contact our team. It's a premium service with worldwide investor attention that gains the best ICO marketing solution.
Sale through marketing world with various channels and create a successful token sales/ICO event
Epixel ICO marketing services come with the following list that will enhance your ICO campaign with the best digital marketing possibilities.
ICO Listing/Rating
A complete range of listing and rating websites are included to provide your ICO event available for public and possibly interest every potential investor.
Digital Advertising
We digitalize your ICO campaign or token sale event in every paid platform like social media Ad campaigns & promotions, crypto Ads, Product Ads etc.
ICO Web Forums
A list of active forums and Q&A websites are used for promoting your event. Marketing through digital forums will keep rolling your event from person-person.
ICO website
We create a unique website with a lively, user-friendly design that will attract every investor. Creating opportunities from the landing page will improve your sales.
Email Marketing
Promote your business through email marketing by making potential leads. Spread the word and make the event successful from such email services from us.
Content Marketing
Sharpening up the marketing scope with up-to-date content marketing engineering that will keep every investor pleased to have a look on the ICO offerings.
Video Marketing
Visualization tells the story and the world is now certainly evolving with moving picture frames. We promote your event with very interesting promotional videos in various genres.
Pricing
We offer you three packages that matches with your business
ICO Service
Generic package

4 BTC

Standard Package

8 BTC - POPULAR

Premium Package

16 BTC

ICO Listings
Free ICO Listing
25 Free Listing
50 Free Listing
75 Free Listing
Premium ICO Listing
0
5 Paid Listing
10 Paid Listing
ICO Rating
Free ICO Listing
5 Free Rating
10 Free Rating
20 Free Rating
Premium ICO Listing
0
5 Paid Rating
10 Paid Rating
Epixel Premium Extra Add-on Services
Maximize your marketing with some extra technical elements